Beatrice Alvestad Lopez & Morgane Clèment-Gagnon
Saturday 22nd August – Saturday 29th August 2020
'Memory of Origin' is an exhibition exploring the vastness and importance of oceans: Their visible surfaces, coastal forms and effects, as well as the microscopic phytoplankton that invisibly transform carbon dioxide into oxygen—essential to human life since our biophysical origins.
Artists Beatrice Alvestad Lopez (NO) and Morgane Clèment-Gagnon (CA) met during a residency at PRAKSIS during Summer 2019, where they discovered a shared fascination for remote locations of mythical affinity. The last year has seen their long-distance collaboration grow through digital exchange of watery themed subject matter.
The photographic and film works of Clèment-Gagnon reveal a profound understanding of the time, rhythm and pulse of landscape. Alvestad Lopez uses photography, textile and applied crafted methods to show intricate details, textural qualities and residue of landscape. Together for 'Memory of Origin' the two present an installation combining film and large-scale photographs on textile.
Due to the impact of Covid-19, the artists have had to restructure their methods and plans. Leaving the two vulnerable, yet reinforced by their mutual artistic bond and friendship, 'Memory of Origin' is the result of much love and dedication.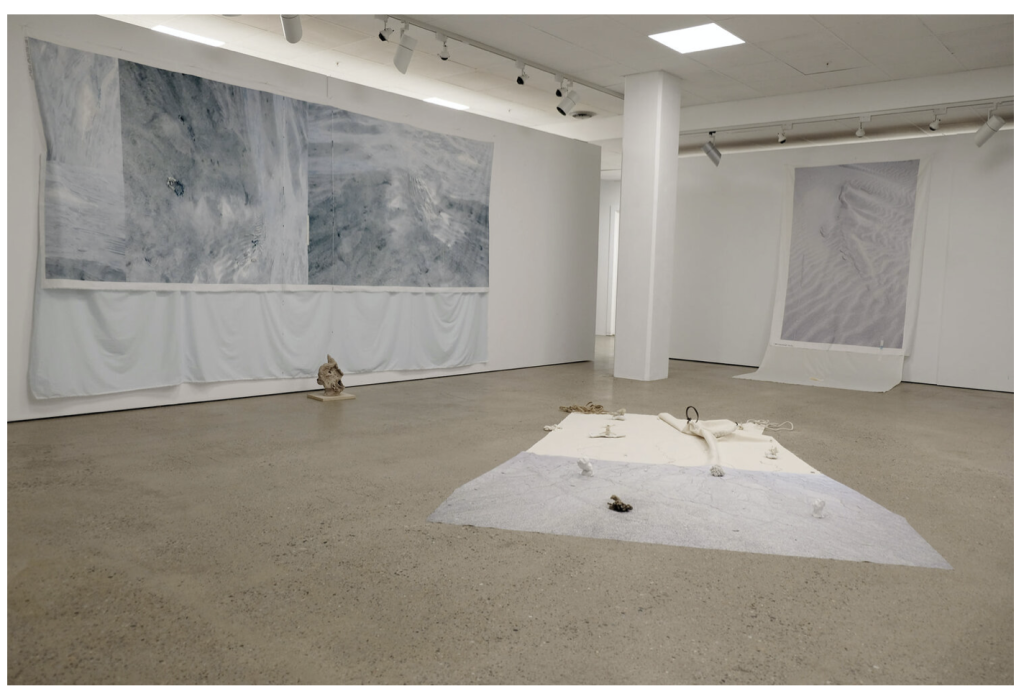 The City Gate
Once in life you reach a city gate, After having sailed the oceans, After having climbed the mountains And you`re invited in;
Were hidden secrets are alive
And silver threads woven
From the city`s heart to yours.
And you will never more be fully free.
And there we were
Embraced by light and air,
Constructing hidden pearls
And finding graceful notion.
Growing closer, growing wiser
And then we`re left alone again
Like islands in an ocean
Maybe has this remembrance no importance Except the city`s deep and real devotions
And that the islands of our souls are kept together By silent waters and by stormy oceans.
Thore J. Elton